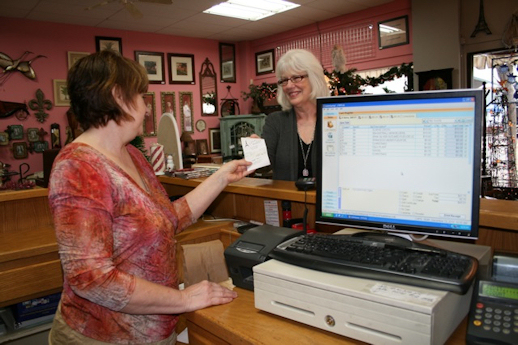 In June of 2002,
Paris Flea Market
opened it's doors and began selling it's dealers' diverse range of antiques and collectibles. Brave New Software has partnered with Paris Flea Market to provide an advanced point-of-sale system to handle the complex needs of selling in a market where it is rare for two items to be identical.
To handle these needs Brave New Software developed
GoAntiquing! Point of Sale
. This point-of-sale program runs on a standard Windows PC with a receipt printer, optional electronic cash drawer, magnetic card reader, and barcode scanner. The place where this program excels is in it's ability to track layaway sales, consignments, commissions, discounts, rents, customers, you name it! Reports are available for giving feedback to the Dealer as well as for the shopkeeper.
"Paris Flea Market is to be commended on it's decision to boldly utilize the technology of today to sell the items from yesterday. GoAntiquing! Point of Sale enables shopkeepers to manage standard sales, layaway sales, consignments, and discounts in a straightforward and easy to use application that was designed from the outset to reduce the total cost of ownership and management of a dynamic retail environment."
UPDATE - September 19, 2003: Building on the success of their first venture, the owner of the Paris Flea Market has opened a second antiques and collectibles business in downtown Visalia, CA. Located within the Paris Flea Market, the new store, Affordable Treasures has implemented GoAntiquing! Point of Sale with anticipation of repeating the success of the Paris Flea Market.

NOTE: This was the first shop to use GoAntiquing! Point of Sale, when it was owned and operated by Bob and Florence Ewert.

601 E. Main St., Visalia, CA 93292