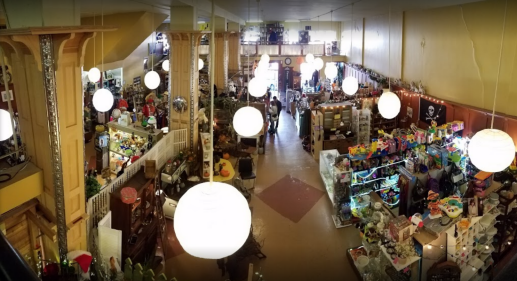 Mitzi Ponce, proprietor of 2Cs Vendor wrote this testimonial. I typically put testimonials only on the GoAntiquing! website, but felt this one might be a useful read for a wider audience. Also, consider visiting her on the internets;
www.2CsVendorMall.com
,
FaceBook.com/2CsVendorMall
,
instagram.com/2CsVendorMall
.
Mitzi says:
I should have written this testimonial for
GoAntiquing! Point of Sale
over a year ago, but I'm glad I waited, because two years' experience with Brave New Software's product and support has given me plenty of time to fully understand just how wonderful
GoAntiquing!
really is. After being a dealer and volunteer cashier in the store, I bought four-year-old 2Cs Vendor Mall in Saint Helens, Oregon, in June 2016 when I retired from my IT career. The mall I took over was a handwritten-ticket, cash-only operation with daily dealer settlements and minimal reporting and tracking. Preparing for the handover, the one change I knew I wanted to make immediately was transitioning to a computerized point-of-sale system.
After trialing seven systems and considering writing my own, I found
GoAntiquing!
, downloaded the trial version, and played around with it. I knew right away that this product would meet my very specific needs and wants. Not only was it ready to go out-of-the-box for our particular situation, but it also didn't tie me in to a cloud solution, which might grind operations to a halt in the event of an internet outage.
From day one,
GoAntiquing!
exceeded my expectations, and – more importantly – exceeded the expectations of my dealers. As I've rolled out changes (credit cards, more days, longer hours, weekly settlements, expansion into unused space, etc.), store sales and foot traffic have increased, but administrative and cashier workload have decreased.
My dealers love the Gateway interface and sales alerts. Because they have access to their sales data, a lot of questions are answered before they get to me (like, "My yellow Pyrex bowl is gone, did it sell?"). My dealers are glad to be able to run sales reports for tax purposes. I also have dealers who advertise their goods on various online selling platforms. They appreciate being able to de-list an item when they see it's sold in the store. For your savviest dealers, the Gateway is a godsend.
Being an unabashed geek, I've exported reports and applied my data analysis skills to them, allowing me to share with my dealers statistics about price point, item type, average sale, and the like, helping the dealers prepare for slow seasons and for our (kind of overwhelming) month-long festival in October. Doing word analysis on sales data allows me to say with authority what types of items sell in particular months or seasons.
All of that aside, here's what really seals the deal for me: support! Regardless how good a system is, things will go sideways from time to time. Usually (okay, always!), the root cause is something we did on our end. I've seldom had to call for support, but when I have, the response has been excellent. Be it a holiday weekend or a regular Friday at 6 pm, I've gotten prompt, friendly, helpful responses. Coming from an IT background, I can tell you that such support is very rare. Early this year, I called on the Friday of a holiday weekend and left a message saying that we could tough out our problem until the following Monday. I cannot tell you how surprised and pleased I was to receive a call back half an hour later! That following busy, busy Saturday, we were up and running, no troubles. For a small business depending on the seasonal trade, that kind of responsiveness means everything, and we get it for next to nothing in annual support fees!
If you're on the fence deciding between point-of-sale systems, feel free to call me to discuss
GoAntiquing!
I consider Brave New Software to have been instrumental in our growth, and I'd be happy to tell you why.
Mitzi Ponce
2Cs Vendor Mall
215 South 1st St.
Saint Helens, Oregon
(503) 410-5280